Job Site Fueling
Southside Fuel helps contractors maximize productivity and stay on schedule with expert job site fueling services. We work with clients to develop a custom fueling plan for each job site, then we deliver and fill on schedule so that workers aren't left waiting.

We are flexible with our clients. Our fueling experts can fill individual vehicles or tanks, and we provide tanks when needed. Whether your work site needs 100 gallons a day or 10,000, Southside can meet your needs. Our trucks are metered, so you can get a record of where all your fuel is going. We can also bring multiple fuels to one site to fuel both vehicles and equipment.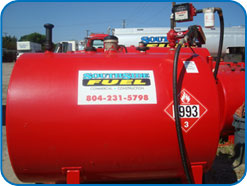 If you have an urgent need for fuel at a site, we will do our best to accommodate you. With our large fleet of fuel trucks, we can usually respond within a couple of hours.

If you are interested in job site fueling from Southside Fuel, please call or contact us today.


Job Site Tanks
Southside Fuel provides tanks in a variety of sizes and delivers them complete with pumps and hoses. We have a substantial inventory, so we always have the right tank, and you never have to worry about fuel contamination.

For information from Southside Fuel, click the following links:
• Call Office - (804) 231-5798 | General Info | Charlie Brown
• Order Fuel Online
• Online Commercial Credit Application